10 things you didn't know about Merrickville
Posted by Kim Ziebell, Realtor® on Monday, August 1, 2022 at 2:08 PM
By Kim Ziebell, Realtor® / August 1, 2022
Comment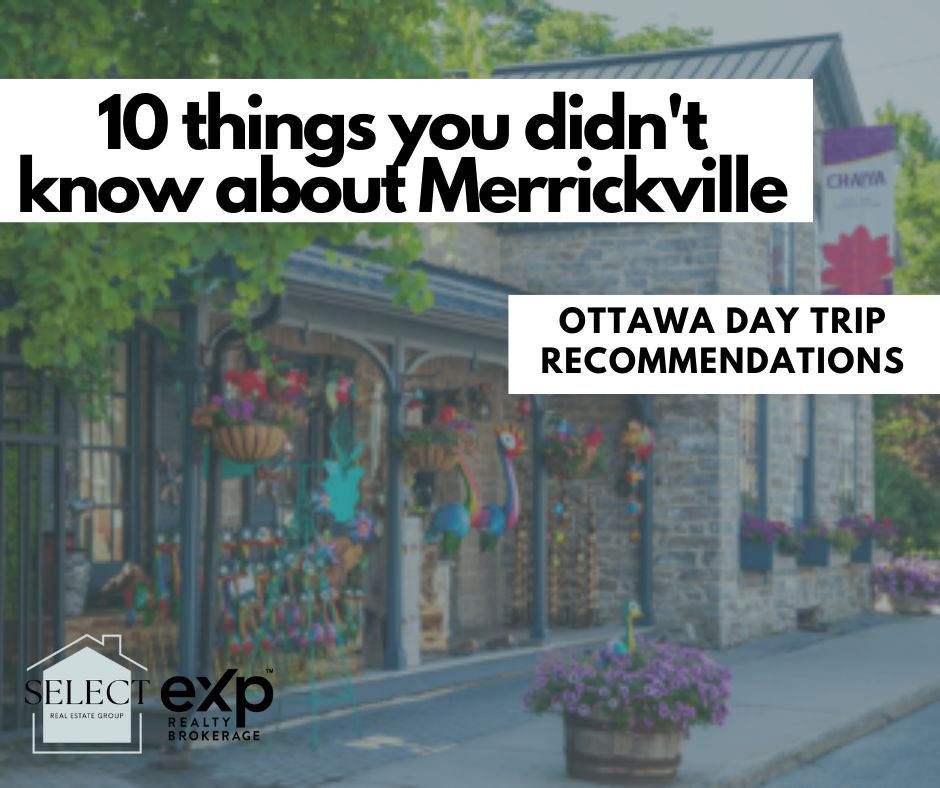 Did you know that there's a hidden gem rich in history, culture, beauty and expereince just a short drive from Ottawa. Did you know that Merrickville, which sits right on the Ridea Canal is loaded with cute shops, delicious restaurants, beautiful scenery and even is home to a unesco historical site. Between the locks, the blockhouse museum, beautiful gardens and so much more its no wonder this is such a popular destination for day trips from Ottawa. So we want to share these 10 fun facts about Merrickville, Ontario to set you up for an awesome day adventuring around. Merrickville is an ideal location to sneak away to for the day.



Stop by the Glass-Blowing Studio

Isn't it absolutly marvelous how glass artists make those brilliantly coloured ornaments and sinuous vases? Now's your chance to see how they make the magic happen and see a studio filled with beautiful glass pieces. The glassblowers work in studio at Gray Art Glass in Merrickville so just make sure to contact them if you're planning to visit so you can schedule a time to observe.
A Merrickville mill owner really annoyed Colonel By

In the "best-laid plans" department: Rideau Canal builder Colonel John By planned to hold a grand opening for the northern section of the canal in 1831. The idea was for a whole bunch of VIPs to board a steamship in Ottawa and cruise down the canal to Burritts Rapids. However, a mill owner named William Mirick (whose surname's spelling later morphed to Merrick) had other ideas. Because the Rideau River was already low, he decided it was the perfect time to make some repairs to his mills in what is now Merrickville. He built a dam that cut off so much water flow to the canal that it was no longer navigable. As a result, By had to reschedule the festivities until 1832.
It was designed to be a major point on the Rideau Canal

William Mirick's antics and all, Merrickville was designed as a major stop along the Rideau Canal. Its blockhouse, now a unesco national historic site, is the largest structure on the canal. The Merrickville locks include, two unusually large basins where vessels could unload and turn around.


You can visit a spectacular nursery/display garden

At Rideau Woodland Ramble, just outside Merrickville, you can wander through stunning gardens filled with creative imagination. Walk around and find yourself also being filled with inspiration and awe and when you're finished exploring you can buy plants and lawn art to take home to create your own lovely garden.


Fill up on gourmet mustard and gelato

OK, maybe Mrs. McGarrigle's Fine Food Shop isn't exactly a secret. It's probably one of the village's best-known shops, at least among foodies. Not only are there delicious mustards but you'll have to try the chipotle lime and balsamic-and-cracked-pepper varieties. Don't miss out on the chocolate, granola, tea, sauces, dishes and more. Oh, and don't forget about hte Gelato! Beloved Ottawa gelato shop Stella Luna also has an outpost in Merrickville, where you can get coffees, baked goods and paninis in addition to super-rich gelato.


Merrickville was home to Harry "Big Pants" McLean

Harry Falconer McLean appears to have been a larger-than-life guy in every sense of the word. He earned the nickname "Big Pants" because he was on the pudgier side. He built railroads and airstrips. He owned multiple cars and planes. Perhaps most remarkably, he was known for his habit of giving away money to total strangers—including, possibly, by tossing large bills out of a hotel room window. He ended his days in Merrickville, where he bought a former department store building at the corner of St. Lawrence and Main streets that is officially known as the Jakes-McLean Block.


It was officially dubbed Canada's Most Beautiful Village

An organization called Communities in Bloom dubbed Merrickville Canada's Most Beautiful Village in a 1998 competition. In 2019, the village was a finalist to regain the honour, which recognizes communities for their beautification efforts and green space initiatives.


You could, theoretically, walk to Merrickville

Merrickville lies on the Rideau Trail, a 387km hiking route that connects Ottawa and Kingston. Some of the trail is close to the Rideau River and Rideau Canal, but it also winds over hills, through forests and along rocky outcrops. (The southern section, closer to Kingston, is generally more rugged than the section closer to Ottawa.) Even though the trail passes through lots of cities and towns, it's not an urban stroll. Check the trail's website for details on preparation, trail etiquette and more, and get the free PDF maps you need here.


Do you know how old Merricksville is?
It's Streets were laid out and a post office named "Merrickville" was opened in 1829. By 1850, the community contained about 700 persons, two flour mills, a cloth factory and other industries, and was incorporated as a village in 1860. With so much more history and excitment to be built and grow in the coming years.
The area now known as Merrickville was once a site alond the Indifenous portage route which is now known as the Ridea River. In 1793, two United Empire Loyalist who has been given land grants by the Britsh government arrivved in the area of Merrickville - Roger Stevens and William Merrick.