Our Personal Favourite Strawberry Recipes: Sure to Make Your Mouth Water!
Posted by Corinne Campbell, Realtor® on Tuesday, July 19, 2022 at 9:03 AM
By Corinne Campbell, Realtor® / July 19, 2022
Comment
Corinne's Sought After Strawberry Salsa!!

INGREDIENTS
Juice and zest from 1 medium lime

1 tbsp honey or maple syrup

Pinch of fine Himalyan Pink Salt

1 pint of fresh strawberries, hulled and diced

1 jalapeño pepper, seeded and finely chopped. I like to leave some in for a bit of a kick.

½ small red onion, finely chopped

½ cup chopped fresh cilantro

Freshly ground black pepper, to taste

Tortilla chips for serving
INSTRUCTIONS
In a large bowl, whisk together the lime juice and zest, honey or maple syrup and salt. Stir in the strawberries, jalapeño, onion and cilantro. Add pepper, to taste, and mix well. Adjust the seasonings if needed.

Serve immediately, with thin tortilla chips or marinate for approximately 30 minutes to get the flavours to mingle. Store any leftovers in an airtight container in the fridge for up to 3 days. Enjoy!
Matcha Dipped Strawberries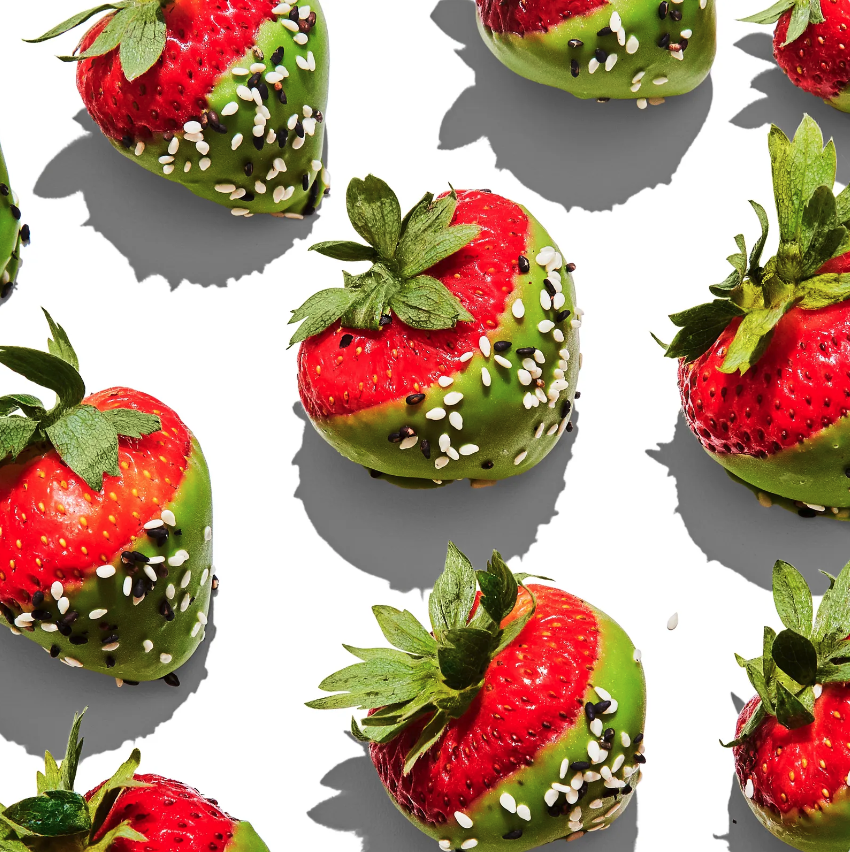 INGREDIENTS:


2 oz. white chocolate, chopped

¼ cup virgin coconut oil, melted

1 tsp. matcha

Pinch of kosher salt

20 chilled large stem-on strawberries, patted dry

Black and white sesame seeds (for serving)
INSTRUCTIONS:


Stir white chocolate, oil, matcha, and salt in a medium heatproof bowl set over a saucepan of simmering water (don't let bowl touch water) until nearly smooth. Remove from heat; stir until chocolate is melted. Set into a larger bowl of ice water and chill, stirring constantly, until thickened and just starting to lose its sheen, about 2 minutes.

Working one at a time, hold berries by stems and dip into matcha mixture to coat; let excess drip back into bowl. Place on a parchment-lined baking sheet and sprinkle with sesame seeds. (Depending on their size, you will be able to coat 15–20 berries.) Reheat matcha mixture if it starts to set before you have dipped all the berries. Chill dipped berries until shell is set, 20–25 minutes.







Strawberry Lemon Blondies

INGREDIENTS
1 cup (2 sticks or 228 grams) unsalted butter, at room temperature

3/4 cup (164 grams) granulated sugar

1 large egg

1/4 cup (55 grams) fresh squeezed lemon juice

2 1/4 cups (306 grams) all purpose flour (use the fluff/scoop/level method for measuring)

1/2 tsp baking powder

1/2 tsp salt

1 cup (127 grams) diced fresh strawberries
Glaze
1 cup (112 grams) unsifted weight powdered sugar, sifted

1 Tbsp strawberry puree you'll need about 2 large strawberries, instructions below

lemon juice about 1 Tbsp, or just enough to thin the glaze to a spreadable consistency
INSTRUCTIONS:
Preheat the oven to 350F

Line a 9 inch square baking pan with parchment paper with long edges. This will help you lift out the blondies for easy glazing and slicing later.

Cream the butter and sugar until fluffy. Beat in the egg.

When the egg is fully incorporated, beat in the lemon juice. The lemon juice will probably not completely incorporate at this point, that's ok.

Whisk together the flour, baking powder, and salt, and add to the wet ingredients, mixing until no more dry flour is present.

Gently fold in the diced strawberries. Spread the mixture into your pan and spread out as evenly as possible. The dough is thick, so take your time.

Bake for 30-35 minutes, just until starting to turn golden around the edges and the center is set. A toothpick inserted in the center will be moist but not wet. Don't over-bake these, or they will dry out. Let cool on a rack.

Trim the strawberries for the glaze and puree in a small food processor. Strain the puree through a small strainer to get 1 Tbsp of puree. Whisk together the sugar, puree, and lemon juice until no lumps remain. If your glaze is too thin, add a touch more sugar. If it's too thick, add more lemon juice.





Spread the glaze over the cooled blondies. Let the glaze set before slicing.
Healthy Strawberry Oat Bars (Gluten Free Option)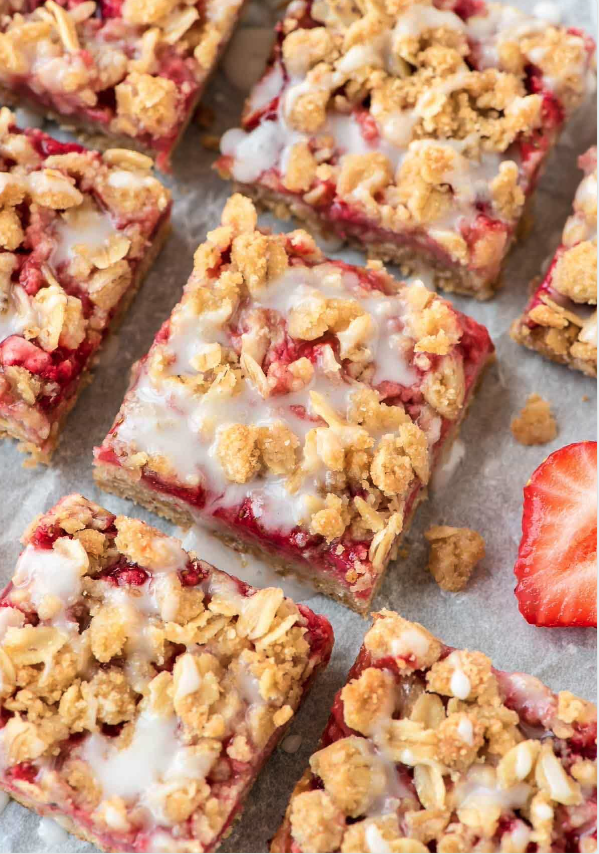 INGREDIENTS:
1 cup old-fashioned rolled oats gluten free if needed

3/4 cup white whole wheat flour or substitute all-purpose flour or 1:1 baking flour to make gluten free

1/3 cup light brown sugar

1/4 teaspoon ground ginger

1/4 teaspoon kosher salt

6 tablespoons unsalted butter melted (or substitute melted coconut oil to make vegan/dairy free)

2 cups small-diced strawberries about 10 ounces, divided
1 teaspoon cornstarch

1 tablespoon freshly squeezed lemon juice from about 1/2 small lemon

1 tablespoon granulated sugar divided
For the Vanilla Glaze (optional but delicious, especially if you prefer a sweeter bar):
1/2 cup powdered sugar sifted

1/2 teaspoon pure vanilla extract

1 tablespoon milk any kind you like
INSTRUCTIONS:
Place a rack in the center of your oven and preheat to 375 degrees F. Line an 8×8-inch baking pan with parchment paper so that the paper overhangs two sides like handles.

In a medium bowl, combine the oats, flour, brown sugar, ginger, and salt. Pour in the melted butter and stir until it forms clumps and the dry ingredients are evenly moistened. Set aside 1/2 cup of the crumble mixture, then press the rest into an even layer in the bottom of the prepared pan.

Scatter half of the strawberries over the crust. Sprinkle the cornstarch evenly over the top, then sprinkle on the lemon juice and 1/2 tablespoon of the granulated sugar. Scatter on the remaining berries, then the remaining 1/2 tablespoon sugar. Sprinkle the reserved crumbs evenly over the top. You will have some fruit showing through.
Bake the bars for 35 to 40 minutes, until the fruit is bubbly and the crumb topping smells toasty and looks golden. Place the pan on a wire rack to cool completely (you can speed this process along in the refrigerator).
While the bars cool, prepare the glaze: In a medium bowl, briskly whisk together the powdered sugar, vanilla, and milk until smooth. Feel free to add more milk if a thinner consistency is desired. Using the parchment-paper handles, lift the bars from the pan. Drizzle with glaze, slice, and serve.
Strawberry-Cabernet Barbecue Sauce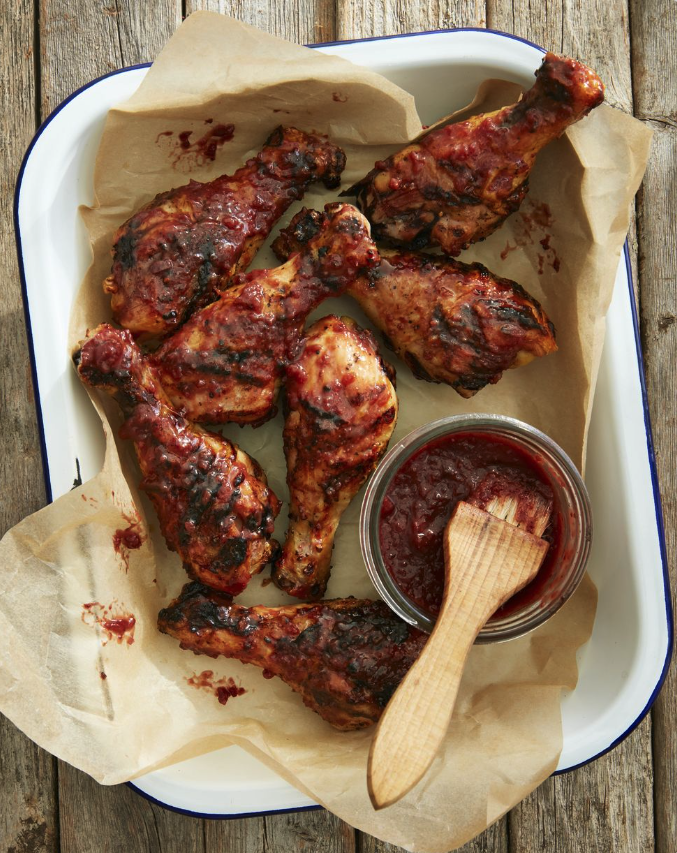 INGREDIENTS:
1 tbsp. canola oil

1/2 medium onion, chopped

Kosher salt and freshly ground black pepper

4 oz. strawberries, trimmed and quartered (about 3/4 cup)

1/2 c. Cabernet Sauvignon

1/3 c. apple cider vinegar

1/4 c. sugar

1/4 c. ketchup

2 tbsp. Worcestershire sauce

1 tbsp. pure maple syrup

3 cloves garlic, chopped

1/2 to 1 jalapeño, seeded and diced
INSTRUCTIONS:
Heat oil in a medium saucepan over medium heat. Add onion and season with salt and pepper. Cook, stirring occasionally, until golden brown, 7 to 9 minutes. Stir in strawberries and Cabernet Sauvignon. Increase heat to medium-high, and cook until berries soften, 3 to 4 minutes. Add vinegar, sugar, ketchup, Worcestershire, maple syrup, garlic, and jalapeño. Bring to a boil. Reduce heat, and simmer until slightly thickened, 8 to 12 minutes. Let cool slightly.

Transfer mixture to a blender and puree until smooth (or use an immersion blender directly in the pan), about 30 seconds. Return to pan and simmer, if necessary, until sauce thickens, 1 to 2 minutes. Let cool, and use to baste grilled chicken, ribs, or pork chops.
We hope you enjoy these creative new takes on strawberry recipes! We've shared both some of our own family recipes and absolute favourites we've found. Give them a try and let us know what you think! We'd love to hear your input. Did we make your mouth water yet??
| ottawaselect.ca | 613-701-9490 |
[email protected]
|